High Quality Tables at Our New and  Used Office Furniture Store
A good quality conference table or boardroom table doesn't have to cost you a small fortune.  At Office Furniture Unlimited we have a great variety of the best quality discount office furniture including many used tables. The tables that we have available are of excellent quality and will serve you well for years to come. The wide assortment of tables that are in our inventory are highlighted below:
Office Tables
Executive Tables
Meeting Tables
Conference Tables
Apart from the above-mentioned types of tables, we also make available to our customers with used desks within an affordable cost. We assure you of the fact that the tables we provide feature the finest quality materials to say the least. We make sure that there is no compromise made with respect to the quality.
Office Tables: Discount Prices But Quality Features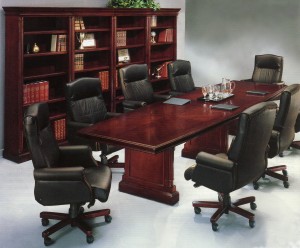 We are a firm believer of the fact that satisfied clients are the pillars of success for any business organization and hence we take every possible step necessary to ensure that there is least compromise made with respect to quality. Our table manufacturing department includes manufacturing unit, quality testing, warehousing, logistics, R&D (research and development) and sales division. Each and every department is 100% committed and is well aware as how to produce the finest quality tables that will suit your requirements in the best possible manner. We generally deal with office furniture/used office Furniture (tables) in areas such as:
Greensboro
High Point
Reidsville
Winston-Salem
Burlington
Our company makes use of high quality materials purchased from the most trusted manufacturers. Hence, you need not worry about procuring inferior quality tables or other office furniture products from our stores in Greensboro, High Point and Winston-Salem. The strong body features of our tables will guarantee you the best degree of performance. Apart from the strong body features, our tables feature stunning finish, cupboards and trouble free installation facility as well.
Other Highlighting Features You Can Expect
Apart from the above-mentioned highlighting features our tables and Office cubicles for sale boasts of:
Sound Design Pattern
Self-Protective Edges
Ergonomic Design pattern
Long Service Life Duration
The tables that we will provide you are available in various sizes and styles thus suiting your intended purpose. Surely, you can place the tables in the guest room, executive room, reception, conference and task room too. You can always take a look at our rich inventory for the types of tables we necessary provide at our furniture stores in Winston-Salem, High Point, Greensboro, Burlington and Reidsville. Our, range of products are deemed perfect to provide you with a lifetime experience.