Home Office Furniture By Office Furniture Unlimited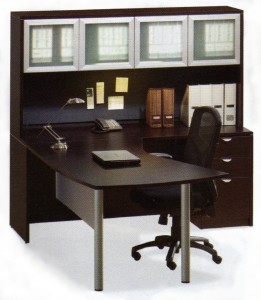 Setting up an office in your home has it's own challenges.  Often you will want the office furniture in your house to fit in with your current decorating.  At Office
Furniture Unlimited, we will work with you to help create and office in your home that is not only practical, but attractive.  We have worked with businesses owners in this market for over 30 years, helping to create effective work environments.  We understand the requirement of the business owners and managers, be it a Fortune 500 company or a part-time work from home parent.  Whether you need office chairs, tables, desks or filing cabinets or more complex orders like conference tables; we take care of everything. We even deliver and set-up furniture for a small fee. And if you have a special need for your home office in Greensboro, contact us and let us know what your situation is.  If we don't have what you require in our 40,000 showroom, we can order it for you and get it within a few days.
Home Office Furniture Offered by Office Furniture Unlimited:
Desks
Chairs
Tables
Filing Cabinets
Tables
Credenzas
Bookcases
Our main focus is to keep our home office customers work environment well furnished with beautiful and ergonomic furniture. And for a modest delivery fee our staff will deliver and set-up your home office in Winston-Salem, High Point, Greensboro, Burlington or Reidsville, NC.
Other Products available at Office Furniture Unlimited:
In addition to the  chairs, tables, desks, credenzas filing cabinets, we can provide the following products for offices:-
Office partitions
Used Office Panel Systems
Office Workstations
Reception Room Furniture
Hutches
Computer Credenzas
Conference Tables
Wardrobe Cabinets
Executive Chairs
Two Drawer Lateral Files
Storage Cabinets
Presently, Panel Systems in offices are becoming a popular option for saving on office set-up.  Moreover, workstation systems help to maintain privacy of  employees so that they can work in a productive environment.
At Office Furniture Unlimited we will design and set-up workstations or Cubicles if you prefer using panel systems.   We have used panel systems in our showroom and can design cubicles to fit just about any space. If we don't have in our furniture inventory what you need for your office, we also have new panel system options.  If your office is located in  Winston-Salem, Greensboro, High Point, Reidsville or Burlington, NC we can deliver and set-up the panel systems.
Whether you need a small two-drawer file cabinet or a room full of five-drawer legal sized drawers, you will find we have hundreds of used file cabinets in stock that will certainly fit your needs.  Here's a list of the type of new and used file cabinets that we often provide for our corporate and home office clients
Two-Drawer Filing Cabinets:
Four Drawer Vertical Filing Cabinets
Four-Drawer Lateral Filing Cabinets
Two Drawer Lateral Files
Wooden File Cabinets
And remember if your office is in Winston-Salem, High Point, Greensboro, Burlington or Reidsville, NC  we do offer delivery and set-up for a very modest fee.